Succeed with SCORE
SCORE Chicago volunteers are experienced entrepreneurs, corporate managers, and executives with a diverse set of industries and specialties who volunteer their experience and knowledge to help small business professionals start, develop, and grow businesses. We also offer low-cost or no-cost business training, and numerous templates and tools.
Connect with SCORE Chicago
SCORE is Celebrating Black Business Month
Black small business owners and their communities have faced extraordinary challenges over the years.  SCORE is renewing our commitment to being part of the solution. 
We're here to close the opportunity gap. 
We're here to take action. 
We're here to give you the tools to meet and overcome any business challenge.
Visit the SCORE for Black Entrepreneurs resource hub designed to meet you where you are and get you where you want to go.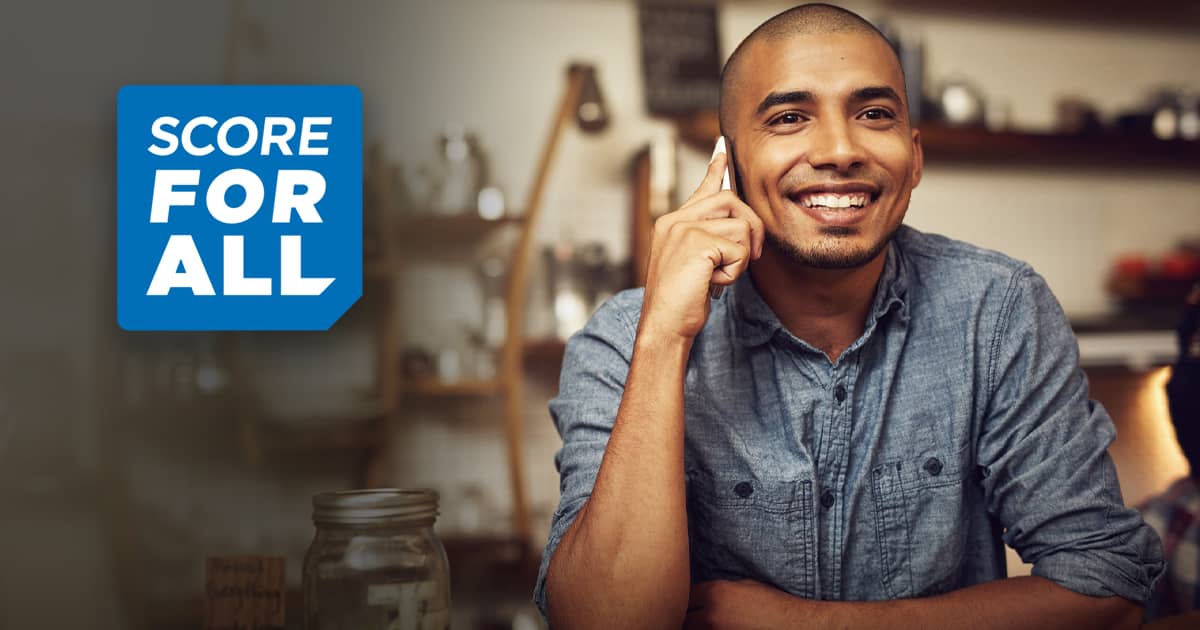 SCORE Empowers All Entrepreneurs
We believe that anyone can start and manage a successful small business. We also know that the road is harder for some than for others. Diverse backgrounds, different voices and unique needs may call for specialized resources and mentoring approaches.
SCORE is listening, recognizes these diverse needs, and provides personalized support in a wholly-inclusive platform called SCORE for All. 
Get Free Business Mentoring Today!
Due to the coronavirus outbreak, SCORE mentors will meet with clients remotely. Mentors are available to participate in remote mentoring sessions via phone, email, and video. If you already have a SCORE mentor, ask them if you can use a remote mentoring method for your sessions. If you don't already have a SCORE mentor, you can request a remote business mentor today. 
You can browse mentor profiles to find your ideal expert or fill out the mentoring request form and we will pair you with the right mentor to help your small business thrive.
Attend a Live Online Workshop Taught by Local Experts!
SCORE Chicago mentors and representatives from the local business community conduct a variety of regularly scheduled educational workshops that provide valuable information and techniques necessary for establishing and managing a successful business.
Due to COVID-19, our workshops will be held online until further notice. Click below to view live online workshops on a variety of small business topics.
Upcoming Events
August 25, 2022, 9:30am CDT
Writing an effective business plan is as much an art as it is a science. This workshop covers the essential elements of business plan development. Topics include: setting goals...
Read more >
August 31, 2022, 3:00pm CDT
Business Ownership Exploration provides information about going into business for yourself through franchising and why it is an affordable way to open your own business.
Read more >
September 1, 2022, 5:30pm CDT
Hyde Park Bank
5 Reasons to Attend: 1. Make new connections 2. Expand your network. 3. Informative workshops on: a. Defining Your Niche- Sherard Jones b. ABCs of the Different Business Legal...
Read more >
SCORE Chicago wins the 2022 Illinois Chapter of the Year Award
SCORE Chicago wins the 2022 Illinois Chapter of the Year Award. Our chapter's excellence is a reflection of our volunteers and the clients we've served. Our volunteers have worked exceptionally hard through a difficult year and persevered to provide valuable mentoring and educational opportunities to clients facing unprecedented challenges.
View Our Impact!
Share Your Expertise
SCORE is proud to have the nation's largest network of volunteer, expert business mentors. They help thousands of entrepreneurs start and grow their small businesses every year. Our volunteers give back to their communities and pass on their knowledge to the next generation of entrepreneurs.

Do you want to help someone achieve their dream?
Become a SCORE Volunteer